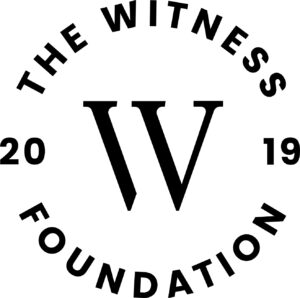 The Witness Foundation is hiring a Full-Time President and has partnered with DiverseChurchJobs.com to find the right person.
This new, high profile, impactful role is vacant because of a successful upswing of service and expansion of The Witness, Inc. and its Founders and Leadership, as well as, the creation of The Foundation and its parallel platform, The Witness: Black Christian Collective, with both organizations maintaining their unique purpose to uplift the Black Christian who refuses to choose between their faith and their identity.
Although formed in 2020, the collective reach of The Witness Foundation, a subsidiary of the Witness, Inc., and its parallel organizations, combined with its well-known leadership, is significant. The Witness Foundation is the philanthropic expansion of The Witness, Inc. An experienced leader, with a background both in development and organization leadership, will continue the trend of dynamic influence, and next generational impact of culturally engaged, faith-filled influencers.
The ORGANIZATION
thewitnessfoundation.co/
God cares about our nation's collective healing, liberation, and economic justice. And because of the social and racial challenges of our day, particularly for people of faith that happen to also be of color, there are organizations and influencers who are needed to step into that space and create both content and an organization that drives the engagement and training of the next generation of Black Christian leaders. Race, equity, and social justice issues matter, and yet they cannot be properly dealt without funding and generational engagement. The Witness Foundation is one of those vehicles.
The Witness Foundation is creating a world reinforced by black brilliance and divine possibility.
The new President will walk in the door with a wide array of existing assets and potential donors to cultivate. This includes a potential email list over 10K, a social media reach of 100,000 potential donors. There is an existing cadre of donors who are generous in their current engagement with The Witness Foundation and The Witness, Inc.
The more formal logistical organizational information is below:
VISION 
To recapture, restore, and rebuild the original, redemptive, and purposeful reality of Black dignity.
MISSION 
To create credible content through its multi-media platform (BCC) and fund the work of Black Christian leaders and Black Christian-led organizations (TWF) which partner to center God's historical, social, and biblical faithfulness through Black people in the United States.
CORE VALUES – BLACK CHRISTIANS BUILDING COMMUNITY
Unapologetically Black
Uncompromisingly Christian
Unrelentingly Building Community
ABOUT Founder, Dr Jemar Tisby
Historian, Author, and Speaker, Dr Jemar Tisby, is president of The Witness: A Black Christian Collective, where he writes about race, religion, politics, and culture. He is also cohost of the Pass The Mic podcast. He has spoken nationwide at conferences, and his writing has been featured in The New York Times, The Atlantic, and CNN. He holds a PhD in history at the University of Mississippi with a focus on race, religion, and social movements in the twentieth century. He also matriculated from the University of Notre Dame and Reformed Theological Seminary, respectively.
The POSITION VISION (Qualifications & Skills, included below)
This full-time leadership (CEO-level) position is responsible for all organizational related success, including operational efficiency, development and donor engagement, and vision attainment.
The President of the Witness Foundation should at least… 
Be an African American Christian leader, who is a devout believer of Jesus Christ in faith and personal and professional practice
Communicate a love and affirmation of Black dignity, and see Black people as a valuable part of the global church and the redemptive and missional work of God
Communicate a working knowledge of the historical and social challenges that Black people face in the United States, and the opportunity that the church must respond to these systemic challenges
Hold orthodox positions that are consistent with the global church regarding cultural issues and would like to maintain that theological integrity in the executive leadership of the organization
Demonstrate proven success working in an intergenerational environment
Reflect proven success in conflict management and conflict resolution
Have proven experience as a "builder", including foundation work, donor engagement, developing organizational vision and an inspiring path towards the immediate future, creating policies, procedures, and processes, and leading staff and shaping teams
THE POSITION DETAILS
Official Title:               The Witness Foundation President
Reports To:                 The Witness Board of Directors
Supervises:                Full Time and Part Time Staff & Contractors
RESPONSIBILITIES
These are the key skills needed for the position (with a corresponding percentage approximate/estimate):
1. Leadership and Strategic Planning – 35%
Establish policies and procedures in support of Board and Staff Development
Team building, professional development, and supervision of the Staff and ensure highly productive, day-to-day management of the Foundation
Assist the Board in facilitating the organization's structure and decision-making process, including clarifying roles, responsibilities, and scope of work
Facilitate compliance of all legal and Human Resource phases of the Foundation
Supervise all financial needs of the Foundation
Oversee the program(s) and funding initiatives of the Foundation
Shape the Foundation's overall business strategy
Develop strategic plans and assess the Foundation's performance
Make data informed decisions that are substantiated up by research and data analysis
2. Spiritual Direction – 15%
Serve as a spiritual leader for the Staff & Team within the organization, reminding the team of the Foundation's "Why?" as it relates to the social, historical, and theological issues that the Foundation wants to address by its existence
3. Development Director Role – 50%
Collaborate with the Board Of Directors to create and implement a Strategic Development & Fundraising Plan
Collaborate with the Communications Team to develop a Digital Development & Fundraising Strategy
Furnish the Board with regular Progress Reports
Collaborate with a network to identify and build, and maintain relationships with new, existing, and potential donors and sponsors
Cultivate and obtain financial support from partner organizations
Manage and facilitate Fundraising and Special Events
Generate development materials such as grants and case statements
Manage the implementation of development software
Manage staff responsible for data entry and gift processing
ASSUMED ASSETS
Bachelor's degree in business, non-profit management, leadership, theology, or related field (A Master's degree is a plus)
5+ years of development, grant writing, sales, or business development experience.
Proficient with sponsorship solicitation
Excellent computer and virtual meeting skills
Proficient with MS Office applications, Google Suite, and CRMs
Proficient with social media platforms
Excellent understanding of Leadership, Management, and Development & Fundraising best practices
Outstanding communication skills, both verbal and written
Ability to work independently
Available to travel, work weekends and evenings
Valid driver's license
This is a remote position that may involve regular travel.
To Apply For This Position, please complete a CANDIDATE PROFILE HERE and submit an official, recent Cover Letter and Resume (and any additional Portfolio materials) to Help (at) DiverseChurchJobs.com
You can contact us for more details on specific questions beyond what is provided here.